Altea recommended activities for the month of March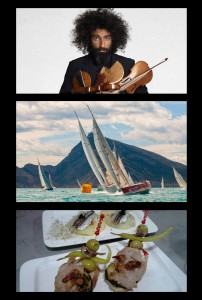 Until next March 6, we can enjoy the gastronomic activity "Anem de tapes per Altea" a route from the top in which the anchovy is one of the leading players. All information can be consulted at the following link.
On Thursday 3rd at 20 h in Palau Altea, concert violinist Ara Malikian with his new work "15" (more on www.palaualtea.com). And at 20:30 h., Videoforum in the Auditorium of the Social Center with the series "Comedy". Thursday the film to be screened is "Do Not Disturb" (2015) by director Patrice Leconte starring Christian Clavier, Carole Bouquet and Rossy de Palma (free admission limited to the capacity of local).
On Friday 4th starts the race Altea-Ibiza-Altea "200 miles a2". The estimated time of departure is at 12 h. You can see more information on the link below.
On Saturday 5, at 12 pm., Children's films in the Auditorium of the Social Center with Curious George Movie 3 "Back to the Jungle" (free entrance limited to hall capacity).
The cultural offer in Altea is completed with the activities planned for the Easter Religious (can download the brochure in the link above), the Casal Museum Fester, where Moors and Christians show their finery in the House of Culture at the street Pont de Montcau 14 (open Monday to Friday from 10 to 14 h 17 to 20 h – free).. and the Parish Museum of the Church of Our Lady of Consolation, where you can admire liturgical objects such as chalices, chasubles and parochial books of great historical value to reach 1,640 year to date (the exhibition can be visited from Tuesday to Saturday 10:30 to 13:30 and 16:30 to 18:30 hours – more information on link above).