"Música Antigua y barroca" and the "Mediterranean Coast Challenge" are the stars this week.
We will enjoy of the following programme in the "Setmana Antiga I barroca":
Monday 9 th at 20 h. "SFA wind quintet" at then Portal Vell (old town).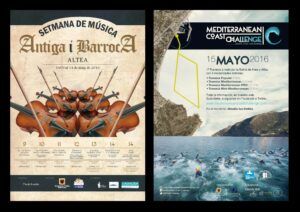 Tuesday 10 th at 20 h. "Pas de Quatre" early vocal music at thel Portal Vell (old town).
Wednesday 11 th at 20 h."Trío of Clarinet, Piano and Cello" at the Portal Vell (old town).
Thursday 12 th at 20 h. "Menestrils d'Ontinyent", early music from the three cultures (christian, jewish and muslim) in the Church (old town)
Thursday 12 th at 20,30 h. videoforum at the Social Cente, with th
e film "El becario " (2015) directed by Nancy Meyer (free entry and limited to capacity of the room).
Saturday 14 th and Sunday 15 th " Mediterranean Coast challenge". More information at this link .
The cultural offer in Altea completes with the photo's exhibition La Casa de Cultura d'Altea: Orígens in the Casa de Cultura (from Monday 25 th April). Casal Fester Museum, where Moors and Christians show their finery in the Casa de Cultura at the 14 Pont de Montcau Street (open Monday to Friday from 10 to 14 h and from 17 to 20 h – admission free) and with the Museo Parroquial de la Iglesia de Ntra. Sra. del Consuelo, where you can admire liturgical objects such as chalices, chasubles and parish books of great historical value that come to date from the year 1640 (the exhibition will be open Tuesday to Saturday from 10:30 to 13:30 and 16:30 to 18:30 hours – more on this link).
– See more at: http://enjoyaltea.com/en/sin-categoria-en/musica-antigua-y-barroca-and-the-mediterranean-coast-challenge-are-the-stars-this-week#sthash.GCEz8FsU.dpuf